Harvey Springfield is back with his fourth solo album "Reap What You Sow", a collection of short-stories with a cinematic and brooding feel. A new direction which evoques Tarantino's soundtracks and classic albums produced by Daniel Lanois (Bob Dylan's Oh Mercy) and T. Bone Burnett (Raising Sand). You can also feel the influence of Johnny Cash, Tom Waits, Nick Cave's Murder Ballads, the Springsteen of Nebraska or Devils & Dust, Neil Young's Sleeps With Angels, Emmylou Harris' Red Dirt Girl, Calexico, R.E.M., Sonic Youth, Cracker, The Jayhawks, Chris Isaak's "Baja California" crooner style on Mountain O' Gold and even Chet Atkins & Mark Knopfler on the Christmas instrumental Yuletide Serenade.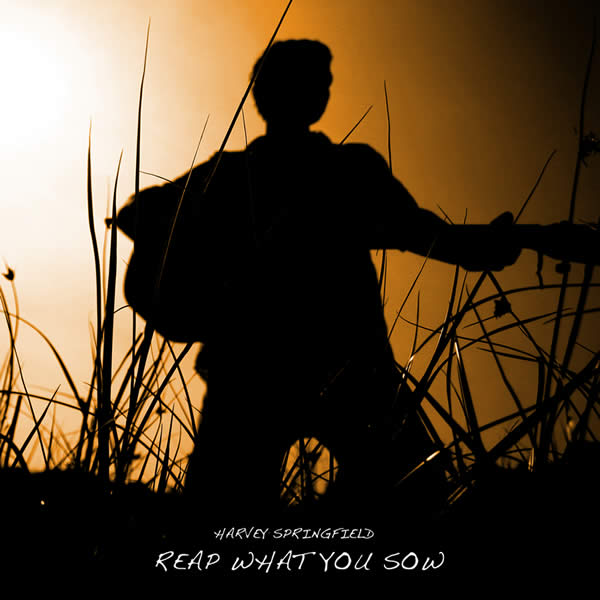 The release title suggests this is a concept album about facing your demons and coming to terms with the consequences of your own actions. It spins around different social and psychological topics such as domestic violence on Change The News, vandalism and revenge on Evil Inside, human-sparked wildfires on Have You Seen The Storm, climate change and water scarcity on Fountain of Gold. The album is tinged with a sense of oppression and a need to break free.
Each song sets you in a different landscape due to a wide variety of instruments and textures including surf and fuzz guitars, organ, accordion, strings, a brass section, chimes, bells, glockenspiel and even horse shoes. As a whole it sounds consistent and never overproduced.
"I wrote most of these songs in the late 90s and early 2000s but it never felt like the right time to record and release them until now. I wanted to create an atmospheric album that steers away from the current trends and has a unique vibe" explains Harvey on the liner notes.
The album will be released on Friday 1st October 2021 and it will be available for streaming and download on all major digital platforms including Spotify. Pre-sale starts on Friday 17th September at https://show.co/O5sEtsJ